Augmented Reality (AR) filters have been around for a decade now. Different platforms have been integrating their own filters and allowing users to engage with their designs. However, they were all limited or completely controlled by the respective platforms. All that has changed of late.
Last year, Instagram Stories introduced a new feature exclusively for business accounts where users could add their customized AR filters. Forget puppy ears, sunglasses or hearts; instead, imagine an exclusive filter of your brand. How cool is that!
Unlike Instagram stories that stay only for 24 hours, your AR filters are automatically published to your page in a tab alongside your IGTV. Your followers can find it by simply visiting your profile. What's even more interesting is that if your AR filter is not promotional, it will display in Instagram's Effect Gallery for anyone and everyone to find!
---
The Game is Already On
Brands are already leveraging this feature to increase brand awareness by publishing easy to use, engaging, and interactive filters. You might have come across the trending Adidas Originals' custom filter with a retro effect to your photos. When you raise your eyebrows, it adds a glitch that comes up as the brand's logo. Adidas may not have targeted any specific audience, but it went viral nonetheless. All they did was put out a free AR filter and Instagram helped maximise its reach.
While Gucci Beauty's filter of Renaissance- & Baroque-period portraits adds a recall value to their feeds, Disney's playful Mickey and Minnie filter sparks the magic of childhood memories. Cadbury's #SayThankYou filter allows you to select a language of your choice to send a virtual thank you bar.
AR Filters can just as easily be associated with a cause. Rihanna created a filter called Diamond Headpiece that she used to promote her annual Diamond Ball and raise awareness for the Clara Lionel Foundation. Nestle's petcare company, Purina, created a filter for a Dog show event they sponsor.
---
All these filters are creative, no doubt, but they also work as the perfect marketing tool. They increase your brand visibility by creating an interactive user experience and put forward a strong brand's messaging while doing so. Click To Tweet
---
And, if your AR filter really captures the imagination of the audience, it could even go viral!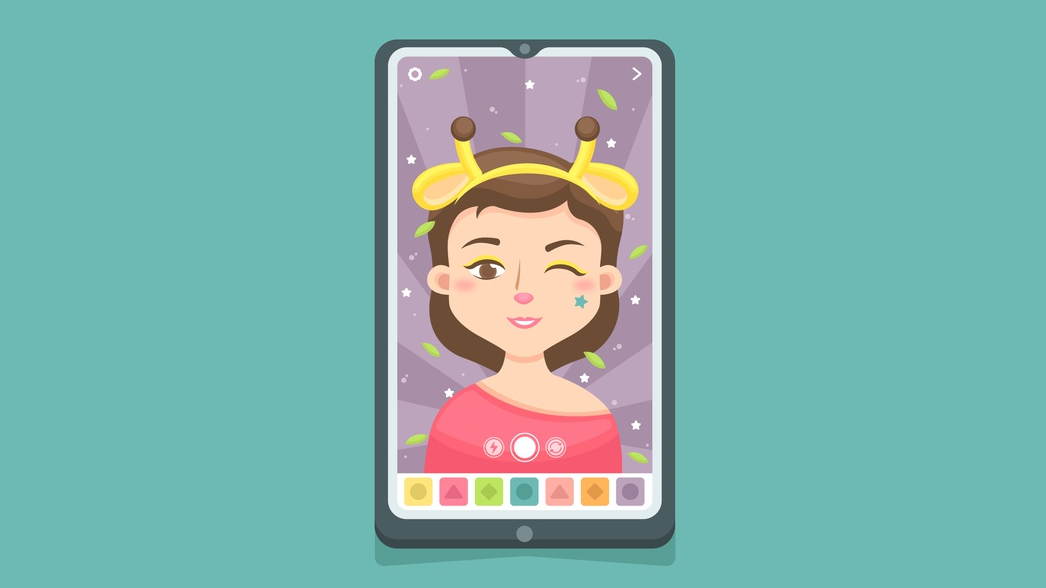 ---
They Work Like a Charm
Developing your own AR filter is a must include in your marketing strategy, and there are several compelling reasons for this. According to Instagram, more than 200 million users visit at least one business profile every day, 60% of users discover new products on Instagram, and one of the three most-viewed Stories are from businesses. Spark AR Studio claims 400,000 creators from 190 countries have published over 1.2 million AR effects on Facebook and Instagram, which are used by more than 600 million accounts every month. Users also spend an average of 75 seconds on AR content, which is 4x the time spent on video content.
---
With more than a billion active accounts worldwide, Instagram is a massive platform to tell your brand story, increase user engagement, and send organic traffic to your brand's account. Click To Tweet
---
Instagram also provides analytics on the performance of your AR filters across all platforms, individually or combined. The insights are available under three broad categories – Discovery, Engagement and Audience – which cover eight distinct metrics: Impressions, Opens, Captures, Saves, Shares, Gender, Age, and Top Countries. This wealth of information helps you keep track of your progress so that you can streamline your messaging.
Instagram AR filters are an effective tool for engagement and promotion of an idea, a message or even a product as they are easily and highly shareable. They can push your audience to participate and inspire them to share your message to their social circle. But this will not work very well if your creativity is not relevant to your brand's aesthetics.
---
A Filter of Your Choice
Your brand's AR filter should not only be compelling, it should reflect your brand's tonality, speak of your uniqueness and differentiate you from your competitors. Use it to boost your brand's online visibility, increase brand recall, or encourage your audience to support a cause they resonate with.
---
The idea is to shape a strong, long-lasting connection with your audience, thereby enhancing your brand's overall reputation. Click To Tweet
---
But all this is only relevant if you have a persuasive call to action in your AR filter. While this will vary depending on your brand's ideology and what you wish to communicate through your filter, we are listing four CTAs that should generally work:
Try It On
This CTA is best suited for make-up, fashion and lifestyle related brands, where users can participate by virtually trying out products in different shades and colours before making a decision. Italian cosmetics brand We MakeUp is one of the front runners who got it just right with their lipstick, encouraging the audience to try-on different shades via an AR filter.
Let's Play
This one is definitely fun, that too for everyone. Imagine Instagram's version 'Guess the Gibberish' filter – the improvised, more interactive version of the classic Jumble Words. Now imagine a customised filter (or many) that reflects your brand's objectives and enables the outreach you are looking for. For example, Men in Black's AR filter with an alien shooting game reached 1.4 million users with 8x higher CTR as compared to the overall industry average. The filter also promoted movie-related content and ended with a CTA to book tickets!
Wishes and Greetings
Whether it is a special message like Cadbury's Thank You campaign or a festival greeting like Coca-Cola's brand mascot, a Polar bear holding a Coke bottle and dancing around Christmas festivities, you can create fun make-a-wish AR filters, by adding virtual objects to your filter that will appear in your landscape!
Support a Cause
This is a great way to promote your brand's value, your work ethics and what you give back to society. You could use AR filters to promote a fund-raising event, an awareness campaign on social causes or your company's CSR contributions, sending across a strong message about your brand's responsible practices.
---
With Instagram's enormous user base and the increasing number of hours spent per user, the platform is great for brands and can make a positive impression on the audience. Click To Tweet
---
79% of Instagram users search for more information after they come across a product or service, 65% of traffic is directed to a brand's website or brand store. In their latest publication of emerging trends, Facebook stated that 73% of the globally surveyed users are interested in trying new ways of shopping, and 82% of the users feel that social media has heightened their expectations around brand interaction. 78% of them agreed that Augmented Reality is indeed a fun way to interact with brands.
Marketing, as much brainstorming it may require, has always been a great segment of any business. Instagram's augmented reality filters can give you unprecedented reach. The platform already has an enormous user base, with at least 500 million users visiting the platform every day. Your brand's AR filter can be a dynamic resource that will help you leverage the potential market. All you need to do is get creative!