In modern times, micro-influencers have become a hot topic among brands and marketers, and for good reason. They're effective, bring great returns on investment, and have the potential to boost the brands' visibility.
But who are micro-influencers?
Typically, these are the influencers with 10-100k followers on social media. And despite their small following, their endorsement can be more impactful than a celebrity's in many cases. This is because micro-influencers have a unique voice and style that endears them to their audience. They are not seen as out-of-reach celebrities or stars in fancy outfits but as relatable and approachable people. Their followers have similar interests, care about what they say, and trust the influencers' opinions. In fact, people think of these influencers as one of them.
---
Micro-influencers have a unique voice and style that endears them to their audience. The audience sees them as one of their own, finds them relatable and approachable, and trusts their opinions. Click To Tweet
---
Owing to their down-to-earth appeal, brands have found micro-influencers to be a reliable addition to their marketing arsenal. But there's more than one reason for their enthusiasm. Having influencers by your side has several other benefits. Take these 4, for instance:
Influencers Ace the Game
One of the biggest advantages that a micro-influencer brings to the table is that they're relatively easier on the pockets. Roughly speaking, a micro-influencer charges at least eight to ten times lesser than a macro influencer. Furthermore, they are also fairly knowledgeable about the niche they're operating in, not to mention extremely passionate and involved. The fact that the audience can trust and relate to them makes them an interesting party to work with. They are basically real personalities who have earned recognition through years of hard work and content creation and have a fairly strong understanding of their follower niche. And in addition to their impact and financial advantage, Micro-influencers are very easy to work with, too.
---
Micro-influencers have earned recognition through years of hard work and have a strong understanding of their audiences. They are powerful assets for brands that are looking for increased visibility and higher engagement. Click To Tweet
---
All these factors come together to make micro-influencers an affordable, yet powerful asset for brands who get increased visibility and engagement by partnering with them. Brands can also tap into the potential of specific and targeted marketing, which is lacking when they work with a macro or celebrity influencer.
---
The Bridge of Trust and A Sea of Opportunities
No matter how big a brand name you are, consumers are likely to be skeptical about your product and its value. And if you're an unfamiliar brand, the audience is uncertain about you. Who knows if your product will really work? What if it doesn't?
In such cases, running a couple of campaigns with micro-influencers is a good idea. Since the audience genuinely trusts their opinions and recommendations, they're able to generate higher engagement and conversion rates. According to Experticity, micro-influencers are capable of making 22.2X higher conversion rates than other influencers. When a micro-influencer introduces your brand to their audience and endorses your product or service, the audience notices you. This can translate to more footfall on your website, more leads, and finally, more conversions.
---
Micro-influencers connect you with their audiences. When they introduce your brand and endorse your product or service, the audience notices you. This means - more footfall on your website, more leads, and finally, more conversions! Click To Tweet
---
And all of this trust that a micro-influencer has built up with their followers has a certain role to play. With a group of micro-influencers that have overlapping audience niches, you have got a lot of playing fields, from campaign ideas to challenges. You can additionally partner with influencers making reels, product reviews, stories with swipe up links and much more. From Indian dating apps like Bumble and Happn, to streaming channels like ZEE5 and further to big brands like L'Oreal and H&M, every brand is looking to tap into this sea of opportunities, just because of the credibility of the followers.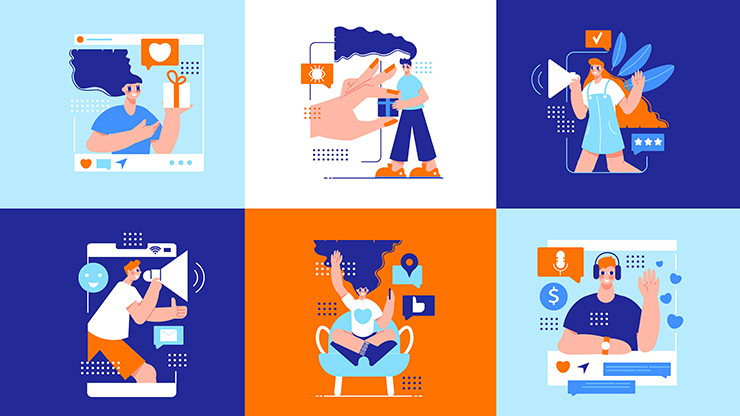 ---
The Social Partnership
When partnering with micro-influencers, ask them to talk about your products on social media and use your brand hashtags while doing so. This is a great way to increase your brand visibility and enhance your conversion rates. Share free samples of your products with influencers and ask them to write blogs, post social media reviews or do an unboxing video. Basically, whatever works to grab eyeballs. Words coming from trusted micro-influencers will encourage your target audiences to try out your products. This is an excellent way of increasing your conversion rates.
One very interesting (and foolproof) way to promote your brands is through personalized discount coupons for influencers. This further encourages influencers which further encourages purchase, making the influencers very excited about the brand. The influencer feels proud showcasing their coupons to the followers. And it works a charm when brands offer discounts for the customers as well. Because while the audience is happy and excited to embrace the product that their favourite influencer is vouching for, they'll definitely appreciate saving some money.
---
4. Don't be Such a Speculator, Spread the Risk
This point would benefit from an example. Let's say the budget for a campaign is ₹100,000. Now, if you're planning to go with macro-influencers with 100k+ followers, you'll bag in one or two at max. The one or two macro-influencer you partnered with will help you reach a fair 100k followers, 200k on a very good day.
When you back on a macro-influencer, you get an almost foolproof deal. With their follower count, you could hardly ever be let down. However, a relatively smarter tactic would be to spread your risk.
---
With micro-influencers, your brand's campaign can reach 2.5x more people for the same amount of money spent on one macro influencer, eventually increasing the possibility of converting more customers. Click To Tweet
---
If you partner with 40-50 micro-influencers instead (who charge ₹ 2,000 to 3,000 each per social media post), you get 40-50 posts for your budget of ₹ 100,000. These micro-influencers you partnered with will help you reach over 500k people. So, this allows you to reach 2.5x more people for the same amount of money spent, eventually increasing the possibility of converting more customers.  And these numbers are just placeholders, we have a campaign planner tool to help you arrive at the approximate budget for collaborating with our pool of micro-influencers. Check it out here.
This is a great strategy. Because even if any one of the micro-influencers doesn't perform as expected, you still have another nine to depend on and your money is not entirely wasted. And, based on the result of this campaign, you'll be able to decide who you want to onboard the next time you're having another campaign.
---
The Final Word: A Macro-Micro Mix
When you are contemplating between a micro-influencer and a celebrity, we suggest you measure their engagement rate and the impact they have on their followers. After that, see if the price you are willing to pay a celebrity or a macro-influencer is worth it or not.
Completely dropping big influencers and celebrities from your social media marketing strategy is not too viable either, and that's not what we're implying. However, underutilizing micro-influencers could put you at a big disadvantage in today's markets. A smart marketer is one who takes advantage of the tremendously positive results micro-influencers can generate, without leaving out the star value a celebrity can bring to the brand. It's a bit of both that the marketer aspires for. Statistically representing this, if you have a budget of ₹ 2 lacs out of the entire campaign budget, you can manage a micro-influencer count of 100, garnering more than 1.3 million impressions and a humongous 120k engagement. Wow! Try out our tool.